Tour details
Sail Away: Bodrum / Gokova / Bodrum 8D/7N
About:
Start and end in Bodrum! With the self-guided tour Sail Away - Bodrum / Gokova / Bodrum, you have a 8 daytour package taking you through Bodrum, Turkey and 4 other destinations in Turkey. Sail Away - Bodrum / Gokova / Bodrum is a small group tour that includes accommodation as well as meals, transport and more.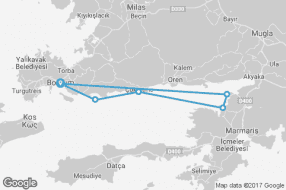 Highlights
Bodrum Harbour
Gulet Cruise
Islands and Secluded bays
Kargili Bay (Molla Ibrahim Bay)
Orak Island
Swimming, sunbaking, relaxing
Yaliciftlik Bay
8 - Day itinerary
Day 1: Bodrum (D)
We begin boarding our Gulet in Bodrum at 15:30 pm. Relax at the pre-cruise information session. Enjoy an onboard dinner while meeting the other passengers.
Day 2: Orak Island, Cokertme (B,L,D)
After breakfast, we sail to Orak Island for lunch and then cruise to our overnight stop at Cokertme, a small and picturesque fishing town.
Day 3: Yedi Adalar (Seven Islands) (B,L,D)
Early start as we cruise for Yedi Adalar (Seven Islands). Spend the day amid beautiful island panorama before arriving in Kufre.
Day 4: Longoz, Karacasogut Village (B,L,D)
After breakfast we set off for Longoz. Overnight in Karacasogut village, just 25km away from Marmaris.
Day 5: Cleopatra Island (B,L,D)
From Marmaris the yacht sails to Sedri Adasi (Cleopatra Island). We spend the afternoon sailing to English port for our overnight stop.
Day 6: Kargili Bay, Kisebuku (B,L,D)
Today we cruise to Kargili Bay for lunch. This afternoon, we sail to Kisebuku for our night stop.
DAy 7: Pabucburnu, Yaliciftlik Bay, Bodrum (B,L,D)
Early morning sail to Pabucburnu. After lunch in Yaliciftlik Bay, we sail back to Bodrum for our final night on the yacht.
Day 8: Bodrum
After breakfast, we disembark at approximately 10:30 am.
Inclusions:
Services of Captain and supporting crew
Tips except Captain and Gulet crew
Transportation by Gulet boat
Entrance fees
7 nights - accommodation (Gulet Cabin)
7 Breakfasts, 6 Lunches, 7 Dinners
Departures - Small-Group Adventure:
Departs every Sunday from May - October (last sail 13th Oct)
PLEASE NOTE, SEASONALITY FROM PRICES:
28th April - 18th May, 6th Oct - 19th Oct - From AUD695/NZD760 per person
19th May - 8th June, 22nd Sept - 5th Oct - From AUD869/NZD950 per person
9th June - 3rd August - From AUD1259/NZD1375 per person
4th August - 31st August - From AUD1469/NZD1605 per person
1st September - 5th October - From AUD1005/NZD1100 per person
695 AUD
Tour booking submitted! We will be in touch soon.